SPICY SOY NOODLES
Our Spicy Soy noodles are the perfect balance of savory and spicy flavors.
This is a carousel with a featured image and a set of thumbnails after. You can use the thumbnail buttons to navigate to a specific featured image slide.
SPICY SOY NOODLES
Meet the next generation of dried noodles. 

Momofuku Spicy Soy Noodles combine the convenience of packaged noodles with the restaurant-level flavor that Momofuku is known for. Plus our noodles are air-dried, never fried so they're as nutritious as they are delicious.  Each order contains 15 servings of noodles.
Our Spicy Soy noodles come with a punchy sauce made from soy sauce, chili, and sesame oil. It creates the perfect balance of savory and spicy flavors. 
Our noodles are different from instant ramen. They have 25% fewer calories and double the protein and zero mg of cholesterol. 
Simple ingredients, complex flavor
Wheat. Salt. Water. That's it. We partnered with A-Sha Noodles to make the most delicious noodles from wholesome ingredients. And our chef-approved sauces are all made from ingredients you know and love.
Convenience without compromise
Have four minutes? Then you can create a meal with Momofuku-level flavor. Our noodles cook in half the time as pasta — and thanks to our sauce packets, they taste great right out of the box. Say hello to your new weeknight staple.
Nutritious, meet delicious
Air-dried, never fried. A-Sha's 18-hour drying process sets our noodles apart. The result: 25% fewer calories than most instant noodles, double the usual amount of protein, and zero mg of cholesterol. It's quality you can taste.

OUR CHEF AND FOUNDER
David Chang is the chef and founder of Momofuku. Called one of "the most influential people of the 21st century" by Esquire, David has appeared on numerous television shows including The Mind of a Chef, Ugly Delicious, and The Next Thing You Eat. His cookbook, Momofuku, is a New York Times bestseller.

USE YOUR SPICY SOY NOODLES
Our broth at Momofuku Noodle Bar takes many hours to make—but this quick hack recipe, inspired by viral trends we've seen on social media, comes together in under 5 minutes. The key ...

We think our Momofuku Dried Noodles are great on their own. Each comes with a sauce packet to add flavor to your noodles. But if you want to level up your experience, here are a few...

Toss shrimp with 1 tablespoon of Momofuku Spicy Seasoned Salt and set aside at room temperature or refrigerate for up to 6 hours. Heat olive in a skillet over medium-high heat. Add ...
Customer Reviews
92
reviewers would recommend this product
Write a Review
Ask a Question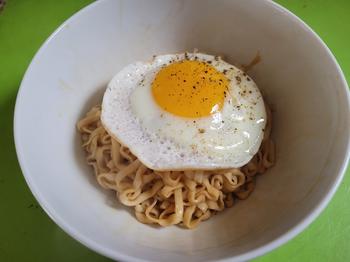 03/31/2022
I recommend this product
Great product, arrived quickly
First time around I bought the sampler pack to trty all 3 flavors. I liked the Spicy Soy the best by a wide margin, so when we finished up our first order, I bought those. The order arrived very quickly, and I am still loving the Spicy Soy noodles.
Brian K.

United States
01/21/2023
I recommend this product
Wow!
I put leftover grilled flat iron steak and broccoli with the Spicy Soy Noodles and had a marvelous winter meal that was a treat for my taste buds. This was delicious. I will certainly recommend these tasty noodles to my friends. Great meal for a cold, snowy evening.
Shelley H.

United States
01/17/2023
Love
Incredible! You have a new family full of fans!
Matthew M.

United States
01/17/2023
I recommend this product
Great stuff
Love these noodles! Very versatile sauce, quick and easy to make. Great with nothing added or enhanced. Would for sure recommend.
Jillian V.

Canada
01/17/2023
I recommend this product
Best noodles ever
We love these noodles - all 3 flavors - delicious, fast, and they even have a lot of protein! So glad we discovered them!
Roanne N.

United States
01/16/2023
I recommend this product
Yummy!!!
OMG holy yum!!! the spice level and flavor is perfect, I added some roasted duck and extra Momofuku chili crisp - just wow - SO GOOD! Definitely going to be a staple in my pantry. Such a quick and easy meal!
Kimheat L.

United States
01/16/2023
I recommend this product
My kids loved their stocking stuffers…
…but your ad on Instagram said Free Shipping and that was a lie. So, I'm bittersweet about the company (not the product)
Katy K.

United States