Noodle Variety Pack
Product Information
Noodle Variety Pack
Current price
$70.00
Regular price
$78.00
All five flavors of our noodles — plus an extra Soy & Scallion.
This is a carousel with a featured image and a set of thumbnails after. You can use the thumbnail buttons to navigate to a specific featured image slide.




Noodle Variety Pack
Try every flavor of Momofuku Goods Dried Noodles with this variety pack. It's loaded with all five of our dried noodles — Spicy Soy, and Tingly Chili, Sweet & Spicy, Spicy Chili, and 2x Soy & Scallion — so you get the full range of flavor. This pack contains 30 servings of noodles. 
Soy & Scallion Noodles – a base of soy sauce and sesame oil creates the perfect balance of salty, sweet, and savory flavors.
Spicy Soy Noodles – a punchy blend of soy sauce, chili, and sesame oil makes a perfect combination of savory and spicy flavors.

Tingly Chili Wavy Noodles – an aromatic blend of chili paste, Sichuan spices and sesame oil builds to a mix of savory, spicy, and tingly flavors.
Sweet & Spicy Noodles – a blend of Korean chili paste and creates a perfect balance of sweet and heat. 
Spicy Chili Noodles – boldly spicy chili sauce mixes with rich soy for a powerful pop of flavor.
Please note: Due to significant holiday demand, your order may ship up to 5 business days after your purchase. 
WHAT'S INSIDE
sweet and spicy

spicy chili

soy scallion

tingly chili

spicy soy

SIMPLE INGREDIENTS, COMPLEX FLAVOR
Wheat. Salt. Water. That's it. Our goal is to make the most delicious noodles from wholesome ingredients. And our chef-approved sauces are all made from ingredients you know and love. If you can't pronounce it, we don't use it.

CONVENIENCE WITHOUT COMPROMISE
Have four minutes? Then you can create a meal that's better than takeout — and a better value too. Our noodles cook in half the time as pasta, and thanks to our sauce packets, they taste great right out of the box. Say hello to your weeknight staple.

NUTRITIOUS, MEET DELICIOUS
Air-dried, never fried. An 18-hour drying process sets our noodles apart. The result: 25% fewer calories than most instant noodles, double the usual amount of protein, and zero mg of cholesterol. It's quality you can taste.

MEET THE FLAVORS
SOY & SCALLION Flavor: salty, sweet, and savory Top it with: sauteed bok choy, poached egg SWEET & SPICY Flavor: balanced, sweet, spicy
Top it with: scallions, grilled chicken TINGLY CHILI Flavor: savory, spicy, and tingly Top it with: sauteed mushrooms, fried egg SPICY SOY Flavor: spicy and savory Top it with: pickled vegetables, Chili Crunch SPICY CHILI Flavor: bold, spicy, savory Top it with: poached egg, sauteed ground meat

OUR CHEF AND FOUNDER
David Chang is the chef and founder of Momofuku. Called one of "the most influential people of the 21st century" by Esquire, David has appeared on numerous television shows including The Mind of a Chef, Ugly Delicious, and The Next Thing You Eat. His cookbook, Momofuku, is a New York Times bestseller.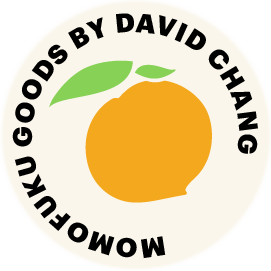 USE YOUR NOODLES
These easy noodles come together fast for a quick weeknight meal, using the savory powers of our Momofuku Soy & Scallion Noodles, plus the sweet heat of our Momofuku Hot Honey. T...

These noodles are a nod to one of the four pastas of Rome: Gricia. In that recipe, pork and pecorino romano cheese are the star players. Here, we sub in umami-rich mushrooms and crea...

This ramen comes together in about half an hour and uses our Momofuku Soy & Scallion Noodles. In our restaurants, we simmer our broth for hours. In this quick weeknight recipe, ...