Seasoned Salts 3 Pack
Product Information
Seasoned Salts 3 Pack
Current price
$30.00
Regular price
$36.00
Banish blandness with all three flavors of our supercharged salt and pepper: Savory, Spicy, and Tingly.
This is a carousel with a featured image and a set of thumbnails after. You can use the thumbnail buttons to navigate to a specific featured image slide.

Seasoned Salts 3 Pack
Current price
$30.00
Regular price
$36.00
Meet Momofuku Seasoned Salt, our supercharged salt-and-pepper replacement.  

Each flavor is packed with the same umami-rich ingredients we use in our restaurants so you can make restaurant-grade meals in no time. Seasoned Salts were developed by David Chang and the Momofuku Goods team. 
We think of Savory as grilling salt, Spicy as barbecue salt, and Tingly as fish and veggie salt — but they elevate every single dish. The only limit is your creativity. 
Each set contains 4oz Savory, 3.4oz Tingly, and 3.7oz of Spicy salt.
WHAT'S INSIDE
Garlic

Onion

Sichuan Peppercorn

Chilis

Salt

Savory
Savory is supercharged salt and pepper. It mixes kosher salt with garlic, tamari, kelp, and mushroom powder. We use it on grilled steaks and vegetables.
Spicy
Spicy is a flash of heat. It blends our Savory base with gochugaru, cayenne pepper, and dried chilies. We use it on shrimp, stewed meats, and ripe mango.

Tingly
Tingly is a jolt of flavor. It is a blend of our Savory base with Sichuan peppercorns and citrus. We use it on fish, popcorn, and roasted vegetables.

OUR CHEF AND FOUNDER
David Chang is the chef and founder of Momofuku. Called one of "the most influential people of the 21st century" by Esquire, David has appeared on numerous television shows including The Mind of a Chef, Ugly Delicious, and The Next Thing You Eat. His cookbook, Momofuku, is a New York Times bestseller.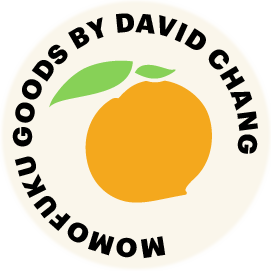 USE YOUR SEASONED SALTS
This easy sheet pan dinner uses only 6 ingredients, plus our Momofuku pantry staples. It comes together in under 30 minutes, and if you have leftover tomatoes, they're excellent the ...

Prepare a sheet pan with parchment paper. Combine cashews, sugar, and water in a stainless steel skillet over medium high heat and bring water to a boil. Continue cooking for 4–5 min...

Heat your oven to 350°F. Melt butter in an 8 x 8 inch pan. Stir in miso and top with 1–2 teaspoons of Savory Seasoned Salt. Place rolls top down in the butter–miso mixture and bake ...