Rice Vinegar
Momofuku Rice Vinegar is the perfect way to add a zesty dash of acid to salad dressings, soups, fresh seafood, and marinades.
This is a carousel with a featured image and a set of thumbnails after. You can use the thumbnail buttons to navigate to a specific featured image slide.
Rice Vinegar
Meet Momofuku Rice Vinegar. Our organic vinegar is the perfect way to add a zesty dash of acid to salad dressings, soups, fresh seafood, and marinades.
Developed by David Chang and the Momofuku Goods team, our Rice Vinegar is restaurant-tested and the result of years of research to create the vinegar of our dreams.
We put time into every step of the process: sourcing a proprietary blend of rice, fermenting it and aging it until it meets our standards. The result: an unfiltered vinegar with full-on Momofuku-level flavor that ends in a bright, crisp, citrus finish. 
You've never tasted anything like this before. 
Organic • No Gluten • Made in USA
WHAT'S INSIDE
RICE

water

CONTROL FREAKS
Our vinegar is different from the very start. We spent months creating the perfect blend of organic jasmine and basmati rices to brew and ferment into rice wine. Once we're happy with that flavor, the vinegar process begins.
AGED TO PERFECTION
We age our vinegar for months to develop and deepen the flavor. Time creates an uncommonly balanced vinegar that's less harsh than you'd expect — and much more flavorful. It can stand up to the most powerful flavors in your pantry without overpowering them.

UNFILTERED FLAVOR
Our vinegar will enliven your dishes, because it's alive itself. We leave our vinegar unfiltered so stands of nutrient-rich live vinegar mother in the bottle will continue to develop the flavor long after it leaves our kitchens for yours. It's the way vinegar should be.

OUR CHEF AND FOUNDER
David Chang is the chef and founder of Momofuku. Called one of "the most influential people of the 21st century" by Esquire, David has appeared on numerous television shows including The Mind of a Chef, Ugly Delicious, and The Next Thing You Eat. His cookbook, Momofuku, is a New York Times bestseller.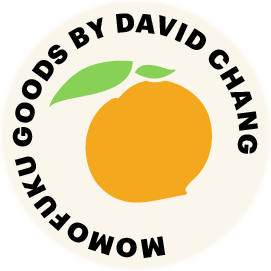 Customer Reviews
98
reviewers would recommend this product
Write a Review
Ask a Question
03/05/2023
I recommend this product
Every product is fabulous!
Incredible flavours & restaurant quality. Love all of it!
Masiel M.

Canada
03/03/2023
I recommend this product
My new obsession
The noodles and the chili crunch are my new staple for lunches. I just can't get enough. The noodles are great on their own, but you can add so many things to make it a new dish each time. Then you add on the chili crunch, I call it chili crack, and no restaurant can beat it!!!!! Soooooooo good!
Wendy D.

Canada
03/02/2023
I recommend this product
Rice vinegar aka Poseidon's nectar
Momofuku rice vinegar tastes so good, in soups, chili, beans, and on fried rice, I can't wait to discover what else. It's so essential to my cooking, this company better thrive for the rest of my life. I've given a bottle as a gift, and soon will be ordering another 4 bottles. Thank you for making this vinegar.
Jackie

United States
03/02/2023
I recommend this product
Made them smile
We gave the Momofuku Rice Vinegar as a thank you gift and got a thank you for the thank you! They loved it!
B K.

United States
02/27/2023
I recommend this product
Great food, bad logistics
Look, the food is great. That being said, it took 2 weeks for the items to arrive. Was told that it was being returned to sender only to be told two days later that it never shipped. Finally got it all resolved but was a nightmare. Would buy again from local store, doubt I order online again.
Jesse W.

United States
02/26/2023
I recommend this product
Wonderful products!
High quality products that are super easy to utilize in many different dishes.
Lisa S.

Canada
02/08/2023
I recommend this product
Love all the small batch items!
The Rice Vinegar is great! Highly recommend!
Julie W.

United States