Noodles and Chili Crunch Pack
Product Information
Noodles and Chili Crunch Pack
Current price
$95.00
Regular price
$126.00
Chili Crunch and our noodles are a perfect pair. This pack brings all the flavors of each together.
This is a carousel with a featured image and a set of thumbnails after. You can use the thumbnail buttons to navigate to a specific featured image slide.






Noodles and Chili Crunch Pack
Current price
$95.00
Regular price
$126.00
Chili Crunch and Momofuku Dried Noodles are a match made in heaven. We developed the Noodles and Chili Crunch Pack to create an endless universe of flavor possibilities. 
Our dried noodles are the perfect base to create better-than-takeout meals. This pack contains 5 serving packs of each noodle flavor for 25 total servings.
Plus, we're including our bestselling Original Chili Crunch, Black Truffle Chili Crunch, Extra Spicy Chili Crunch and Chili Crunch Hot Honey to make these perfect pairings even sweeter. 
Combine noodles and Chili Crunch together or use them separately in your cooking. The only limit is your creativity.
Please note: Due to significant holiday demand, your order may ship up to 5 business days after your purchase. 
WHAT'S INSIDE
All 5 noodles

original

black truffle

extra spicy

Hot honey

DRIED NOODLES
Have four minutes? Then you can create a meal with Momofuku-level flavor. Our noodles cook in half the time as pasta — and thanks to our sauce packets, they taste great right out of the box. Say hello to your new weeknight staple.

MEET THE FLAVORS
SOY & SCALLION Flavor: salty, sweet, and savory Top it with: sauteed bok choy, poached egg SWEET & SPICY Flavor: balanced, sweet, spicy
Top it with: scallions, grilled chicken TINGLY CHILI Flavor: savory, spicy, and tingly Top it with: sauteed mushrooms, fried egg SPICY SOY Flavor: spicy and savory Top it with: pickled vegetables, Chili Crunch SPICY CHILI Flavor: bold, spicy, savory Top it with: poached egg, sauteed ground meat

CHILI CRUNCH
With three types of Mexican chilis, crunchy garlic and shallots, Chili Crunch adds a perfect punch of heat and texture to your favorite dishes. It's the perfect addition to all your favorite dishes and is the ultimate noodle topping.

MEET THE FLAVORS
ORIGINAL Flavor: Classic — moderately spicy, ever-so-slightly sweet, loaded with crunch. Recommended pairing: Soy & Scallion Noodles EXTRA SPICY Flavor: Hot shot — extremely spicy, subtly fruity, packed with flavor. Recommended pairing: Spicy Soy Noodles BLACK TRUFFLE Flavor: Sophisticated — moderately spicy, rich, brimming with real black truffle. Recommended pairing: fried eggs, whipped ricotta HOT HONEY Flavor: Sweet heat — mildly spicy, deeply flavorful with a fruity yet rich sweetness. Recommended pairing: pizza, toasts, charcuterie boards

OUR CHEF AND FOUNDER
David Chang is the chef and founder of Momofuku. Called one of "the most influential people of the 21st century" by Esquire, David has appeared on numerous television shows including The Mind of a Chef, Ugly Delicious, and The Next Thing You Eat. His cookbook, Momofuku, is a New York Times bestseller.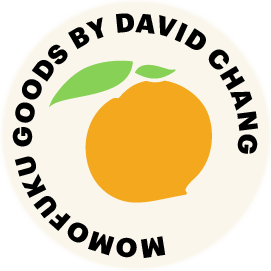 USE YOUR ULTIMATE VARIETY PACK
We think our Momofuku Dried Noodles are great on their own. Each comes with a sauce packet to add flavor to your noodles. But if you want to level up your experience, here are a few...

This dish is based on an OG dish at Ssäm Bar with rice cakes. I don't want to call it a ragu or a sugo, but that's essentially what it is. We start with our Spicy Soy Noodles, which...

Our broth at Momofuku Noodle Bar takes many hours to make—but this quick hack recipe, inspired by viral trends we've seen on social media, comes together in under 5 minutes. The key ...