WHAT'S INSIDE
Organic Soy

Wheat

KOMBU

Water
Barrel Aged Soy Sauce
Barrel Aged Soy Sauce
Please enter a valid email address
Due to overwhelming demand, we are sold out of Barrel Aged Soy Sauce. We apologize for any inconvenience. Join the list above to get first access to future launches. 
Meet Momofuku Barrel Aged Soy Sauce, a portal to a new universe of flavor. 
We partnered with Kings County Distillery — New York City's premier craft distillery and among the most acclaimed small distilleries in the United States — to age our soy sauce in their bourbon barrels. 
The result takes the depth and richness of Momofuku Soy Sauce to new dimensions. Warm notes of caramel, vanilla, and holiday spice from the bourbon barrels balance the salinity of our soy sauce. It's like nothing you've had before. 
Developed by David Chang and the Momofuku Culinary Lab, Barrel Aged Soy Sauce is packed with the same umami-rich ingredients we use in our restaurants. 
Please note: Your order will ship 2-3 days after your purchase. We appreciate your patience for this special product. 
water, organic soybeans, organic wheat, salt, organic alcohol(to retain freshness), kombu. Contains: soy, wheat
Servings: 16, Serving size 1 tbsp (15ml), Amount Per Serving: Calories 10, Total Fat 0g (0% DV), Sat. Fat 0g (0% DV), Trans Fat 0g, Cholest. 0mg (0% DV), Sodium 1010mg (44% DV),Total Carb. 1g (0% DV), Fiber 0g (0% DV), Sugars 0g, Protein 2g

A LONG LINEAGE
When Dave opened Momofuku, he was criticized as being "inauthentic" for using American ingredients to make Japanese ramen. His counter: the authentically "Japanese" thing to do is to use the best local products to make something amazing. The same principles are true here. We're inspired by the classic kioke shoyu (wood-barrel soy sauce) methods — a 1000 year long tradition — but done using our soy sauce in American bourbon barrels. There's nothing more authentically Momofuku than that.

PERFECT PARTNERS
In keeping with that ethos, we looked no further than our backyard to source our barrels. We've long served Kings County Distillery's spirits at our restaurants and knew that their commitment to making traditional products in unconventional ways was in line with ours. Their whiskeys pull from and respect elements of Irish whiskey, scotch whiskey, moonshine, and traditional bourbon to defy geographical designations just as our food lives outside the boxes that people try to put it in.

UNIQUE POSSIBILITIES
Momofuku Barrel Aged Soy Sauce is a truly one-of-one product. We age it for 6 months to allow the flavors to meld and mellow. We recommend brushing it on freshly sliced fish or using it as a dipping sauce to appreciate the complexity. In the restaurants, we use it to add a savory touch to our Old Fashioned cocktail.

OUR CHEF AND FOUNDER
David Chang is the chef and founder of Momofuku. Called one of "the most influential people of the 21st century" by Esquire, David has appeared on numerous television shows including The Mind of a Chef, Ugly Delicious, and The Next Thing You Eat. His cookbook, Momofuku, is a New York Times bestseller.

Customer Reviews
100
reviewers would recommend this product
Write a Review
Ask a Question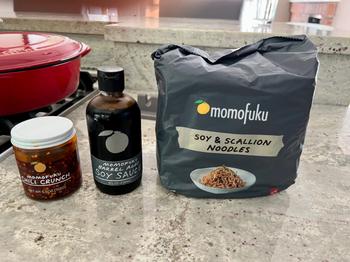 10/12/2022
I recommend this product
Delicious!
Momofuku noodles + Momofuku Chili Crunch + Momofuku Barrell Aged Soy Sauce=spicy noodle Ecstasy!
Gary V.

United States
10/30/2022
I recommend this product
Love it!
Your products are always excellent, I love to use them, encourage all my friends to buy.
10/17/2022
I recommend this product
Richly Elegant
Beautiful depth and richness. It's soy sauce ... but has that little extra 'something' that provides a sense of elegance.
Kris F.

United States
10/14/2022
I recommend this product
Apple Cider Mania!
Crazy delicious...better than an apple cider doughnut because it's enough to feed a dozen fall favorite enthusiasts!
andrea g.

United States
10/13/2022
I recommend this product
Best soy sauce ever!
This is a soy sauce that I am now using in non traditional dishes because of its amazing flavor.
Diane S.

United States
10/13/2022
I recommend this product
Soy Sauce
The sauce was delicious and your packaging is impeccable, unmatched!
Walter K.

United States
10/12/2022
I recommend this product
Great quality!
Their products never disappoint!
Sharon H.

United States
faq
Chili Crunch
How do I use Chili Crunch?

Chili Crunch is ideal for adding a flash of heat to your favorite dishes and is perfect for topping dips, eggs, noodles, and more. Use Chili Crunch anywhere you would use hot sauce.

Is Chili Crunch vegan/vegetarian friendly?

Yes, Chili Crunch is vegan.

No, Chili Crunch is not certified Kosher.

Is Chili Crunch product Gluten-Free?

Chili Crunch does not contain wheat or any gluten-containing ingredients.

What kind of chilis are used?

Puya, Japones, and Chili de Arbol.

How many calories per serving are in Chili Crunch?

90 calories

How much sugar does Chili Crunch contain per serving?

Less than 1 gram and 1% DV added sugar.

Does Chili Crunch need to be refrigerated after opening?

Momofuku Chili Crunch should be refrigerated after opening.

What kind of oil is used in Chili Crunch?

Grapeseed oil.
More faq