WHAT INSIDE
Habanero

Chilis

SHALLOT

garlic
Extra Spicy Chili Crunch 3 Pack
Extra Spicy Chili Crunch marries the smoky-sweet flavor of Chili Crunch with the fiery heat of habanero peppers. 
Developed by David Chang and the Momofuku Culinary Lab, Extra Spicy Chili Crunch is packed with the same umami-rich ingredients we use in our restaurants. 
Extra Spicy Chili Crunch is twice as spicy as original Chili Crunch but it isn't just a blast of heat. The addition of habaneros gives Extra Spicy Chili Crunch a subtle floral flavor that tempers the flames. If you like it hot, you've met your match.  

PEPPER POWER
Extra Spicy Chili Crunch is built on four different Mexican chilis for a complex blend of smoky, spicy, and floral notes. Pulla chili brings a bright fruitiness. Chili de Arbol adds a nutty smokiness. Japones chili imparts a lingering spiciness. And habanero closes with a lashing of pure heat. Only the bold need apply.

HOT HOT HEAT
We tested dozens of peppers to take Chili Crunch to the next level and landed on habaneros. Their flavor is unmatched — and they're three times as spicy as the peppers in regular Chili Crunch. Get your glass of milk ready.

WAKE UP YOUR TASTEBUDS
If Chili Crunch is a sports car, Extra Spicy Chili Crunch is a rocket. It takes all your favorite foods into a different stratosphere of flavor and spice. Use it on noodles, pizza, sandwiches and more. Nothing will be the same.
Customer Reviews
Write a Review
Ask a Question
06/02/2022
I recommend this product
The everything condiment
The Momofuku Extra Spicy has a permanent place on our dining table and is a welcome enhancement to anything that needs a spicy umami boost.
06/02/2022
I recommend this product
Online order.
So easy to order, fast delivery and delicious product.
Craig K.

United States
06/02/2022
I recommend this product
Oh SO YUMMY
Just love the extra spicy chili crunch 3 pack. I have to buy the 3 pack because anyone who visits me and tries it then wants to go home with a jar! The extra spice is awesome!
Angelica H.

United States
05/09/2022
Irma R.

United States
05/09/2022
I recommend this product
Has Not Arrived
I love your Chili Crunch product however it's off putting to get a survey about my order that I have NOT received I'll tell you it's great once it's on my table again
Eric

United States
05/09/2022
Momofuku Goods
Hi Eric, Hope you are doing great! My name is Kyle and I'm the Head of E-Commerce at Momofuku Goods -- thank you so much for the feedback and it is so great to hear you love the product. I apologize for the confusion; this request for a review was for your order back in April. We send the surveys about a month after to ensure customers have had a chance to receive and try the product. We look forward to your most recent order arriving soon! Thanks again for your continued loyalty. As an extra thanks, please use the code FREESALT on your next order for a free jar of seasoning salt. Just add the jar of your choice to your cart along with the rest of your order and the code will make it free! Thanks again, Kyle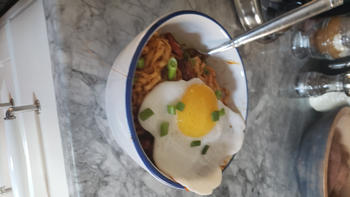 05/07/2022
I recommend this product
Great Noodles
This Tell us More field is more annoying than the Very good Noodles
Zachary T.

United States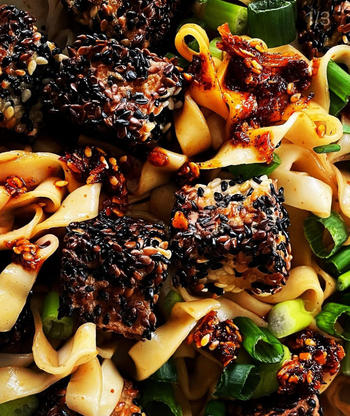 05/07/2022
I recommend this product
Spicy Perfection
The Extra Spicy Chili Crunch is even better than I expected. I've tried other products that claim extra spicy and they always miss the mark. This stuff is amazing , so much so that I've ordered 3 more jars.
Sharon M.

United States