Soy Sauce
Product Information
Soy Sauce
Our restaurant-grade soy sauce has a depth of flavor that's nothing like you've had before.
This is a carousel with a featured image and a set of thumbnails after. You can use the thumbnail buttons to navigate to a specific featured image slide.

Soy Sauce
Meet Momofuku Soy Sauce. If you're used to grocery store soy sauce, you've never had anything like this.
Our restaurant-grade version is steeped with kombu to unlock a world of depth and flavor. It's built on 10 years of flavor research from the Momofuku Goods team and we're making it available to home cooks for the first time. 
WHAT'S INSIDE
Soybeans

Wheat

Kombu

Water

Salt
SOY SAUCE
Momofuku Soy Sauce is steeped with kombu for 48 hours. The result is a richer, rounder soy sauce that's perfect on braised meats, marinades, and all the classics like sushi.

OUR CHEF AND FOUNDER
David Chang is the chef and founder of Momofuku. Called one of "the most influential people of the 21st century" by Esquire, David has appeared on numerous television shows including The Mind of a Chef, Ugly Delicious, and The Next Thing You Eat. His cookbook, Momofuku, is a New York Times bestseller.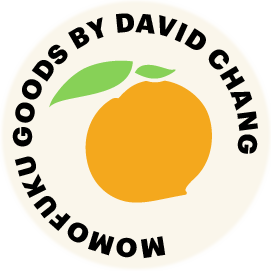 USE YOUR SOY SAUCE
This is our tribute to the steak dinner. While steak dinners at home can be accomplished with a hot pan or a grill—there's lots of mess and splatter. We present: the very easy sheet ...

Combine the Momofuku Soy Sauce, rice wine vinegar, sugar, and soju in a sauce pot and bring to a boil, stirring until sugar is dissolved. Remove from heat. Pour over daikon and Jalap...

For this braised chicken, we make one of our favorite sweet soy marinades—it's great for steaks or as a base for rice cakes, but it's especially good in this braised chicken. The mea...