Pantry Starter Pack
Product Information
Pantry Starter Pack
Current price
$65.00
Regular price
$74.00
This best-selling pack has everything you need to season, sauce, and spice up your favorite dishes.
This is a carousel with a featured image and a set of thumbnails after. You can use the thumbnail buttons to navigate to a specific featured image slide.

Pantry Starter Pack
Current price
$65.00
Regular price
$74.00
Bring Momofuku flavor to your home kitchen with our pantry starter pack. Featuring our Savory, Tingly and Spicy Seasoned Salts, Soy Sauce, Tamari, and Chili Crunch, this pack will give you the tools to season, sauce, and spice up your favorite dishes.
Please note: Due to significant holiday demand, your order may ship up to 5 business days after your purchase. 
WHAT'S INSIDE
All three seasoned salts

Chili Crunch

Soy Sauce

Tamari

CHILI CRUNCH
Momofuku Chili Crunch is a spicy-crunchy chili oil. Chili Crunch combines three dried Mexican chilis with crunchy dried garlic and shallots. It's great for spicing up dips, eggs, noodles, and more.

SOY SAUCE
Momofuku Soy Sauce is steeped with kombu for 48 hours. The result is a richer, rounder soy sauce that's perfect on braised meats, marinades, and all the classics like sushi.

TAMARI
Momofuku Tamari starts with organic tamari that we steep with kombu for 16 hours. The result is a sharper, lighter flavor that's similar to soy sauce but does not contain gluten. It's perfect in salad dressings, sashimi, and all the classics like sushi.

SEASONED SALTS
Momofuku Seasoned Salts are a starter pack of flavor to take your cooking to the next level, packed with the same umami-rich ingredients we use in our restaurants. Use them in place of salt and pepper in all your favorite dishes.

OUR CHEF AND FOUNDER
David Chang is the chef and founder of Momofuku. Called one of "the most influential people of the 21st century" by Esquire, David has appeared on numerous television shows including The Mind of a Chef, Ugly Delicious, and The Next Thing You Eat. His cookbook, Momofuku, is a New York Times bestseller.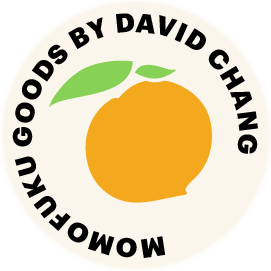 USE YOUR PANTRY STARTER PACK
Meet the sheet pan breakfast (or breakfast for dinner, whatever your style). To make it, you start with potatoes, and they can be whatever kind of potatoes you like best. We prefer a...

The ginger scallion fish ssäm has been a mainstay on the menu at Ssäm Bar for years. It usually involves a much bigger fish that we roast for a longer time. This recipe is done in mi...

Combine the Momofuku Soy Sauce, rice wine vinegar, sugar, and soju in a large container until sugar is dissolved. Add in sliced daikon and jalapeno—they should be totally submerged i...